Full House Fashion
Full House Fashion is Everywhere You Look (haha)
During quarantine I have been watching a lot of Full House to keep myself entertained. Growing up, I loved the show and I would watch it on Nickelodeon nearly every night before going to sleep. Re-watching the series has provided me with some much-needed nostalgia, but something in particular really stood out to me: the fashion. Of course, I always wanted to dress like DJ- what girl didn't? But a lot of her outfits on the show looked quite familiar.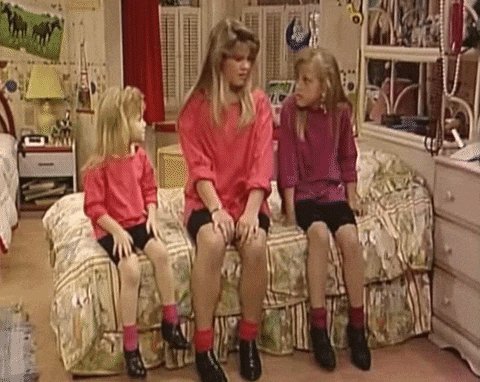 Sure what they say is true- fashion trends do come and go, but 2020 looks quite…familiar. I was never alive during the 1980s but if I were I imagine it would look pretty similar to now. Hear me out, mullets are everywhere, high waisted pants are a must-have, and it's nearly impossible to buy any piece of clothing that isn't already distressed. Many popular retailers such as Urban Outfitters, American Eagle, H&M, etc. have been taking inspiration from the past with both men and women's fashion replicating 80's trends. Here are some popular fashion trends right now that look like they came straight from the Tanner family closet.
The LBD is an essential item in any woman's closet. During season 6 of Full House, DJ goes to her high school prom with her boyfriend Steve. She walks down the stairs wearing a beautiful off the shoulder dress with a sweetheart neckline. Even though this screencap is nearly 40 years old, it looks like it could have come from any show on the air now! The dress on the right looks nearly identical as the model sports a black bodycon dress with the same neckline and off the shoulder detail. This dress can be found at LuLu's with many other similar styles to choose from.
Mom jeans. The high waisted pair of denim pants that have the biggest pockets I've ever seen on a pair of pants for women, flatter any body type and are oh so comfy. Now that I'm thinking about it, why did we ever wear skinny jeans? Loose-fitting high waisted jeans are the only pants I wear anymore and I am loving it (o˘◡˘o) While the '80s had a lot of questionable fashion trends (I'm looking at you, shoulder pads) this is one the decade definitely got right. Here supermodel Kendall Jenner rocks an outfit that gives me full Aunt Becky vibes. A pair of mom jeans with a casual bodysuit and a leather belt is perfect for any occasion. To recreate this look, Urban Outfitters has it all.
It's nearly impossible nowadays to find a basic top that isn't cropped. With pants getting higher, the shirts are getting shorter which makes this pair the perfect combo. While Danny Tanner may not approve of this look, it's almost impossible to escape in stores. This trend is one that I believe will definitely be around for most, if not the rest, of the decade. Forever 21 is a great place to find crop tops like this one and, to complete the look, I'd go for a pair of distressed jeans with an oversized flannel.
Don't worry, I could never forget about men's fashion, especially from the style icon that is Uncle Jesse. While my knowledge about the latest trends for men is a little hazy, I do know that any guy who walked in dressed as John Stamos from the '80s would instantly catch my attention. Low collar shirts combine classy and comfy into one and are perfect for the warmer weather coming up. This one is from ASOS and while the black is a classic choice, adding some vertical stripes creates more interest for any outfit.
THE MULLET IS BACK. Who would've thought? Not me! I was not a fan then and I'm not a fan now. I'm not sure if it's because they're actually ugly or if I just hate how the word sounds in my mouth, but I couldn't finish writing this post without mentioning it. The return of this hairstyle owes its reappearance to the Tiger King himself, Joe Exotic. The show's cultural impact can be felt far and wide, and now the hairstyle that defined John Stamos' entire character is back. Both genders are going for the cut with celebrities like Miley Cyrus, Billie Eilish, and Halsey wearing it out. I still beg everyone who's thinking about giving themselves a quarantine mullet to think long and hard before making their decision, but if you're going to do it, now would be the time. 
This last section is dedicated to a couple fashion trends from the '80s that may not have been in Full House, but that I believe are going to make a major comeback at some point during the decade. I'm writing this down for proof that I called it if/when these fashion items reemerge. 
First up are platforms. Being that I'm 5'3 but like to feel tall, I've been wearing platforms for the past couple of years. However, I believe that platforms will get the attention they so rightfully deserve this decade. I'll admit that they have some popularity in certain subcultures, but they'll be everywhere soon.
Next are high cut swimsuits. These high waisted swimmies have slowly been making a comeback, but I think that the summer of '20 and '21 is going to be where they really hit the mainstream market. Mark my words, next year every girl on the beach is going to look like they should be running in slow motion trying to save someone who's drowning in the ocean.*
Lastly are jelly shoes. These comfy colorful sandals are really cute and can be dressed up or down for any occasion. Sandals have been all the craze these past few summers with the rise of Birkenstocks, Chacos, and Tevas, so it's safe to assume that jelly shoes will be a hit with the public. But really I'm just hoping that they'll make a return because I want to be able to find them in stores easier hehe (^ω^)
*I've never seen Baywatch but this is what I imagine happens
---
---